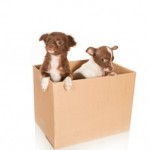 People love their cars, but they also love their pets. Now you don't have to choose what is best for one or the other. By shipping your car and flying your pet, you will do what is best for both of them.
How do you fly your pet?
Many airlines will make accommodations for pets to fly with their owners. You typically have two options. A very small pet can sit in the cabin in a carrier while a larger one will need to be placed in the cargo area in a carrier or kennel.
The airline dog carrier needs to be 8-9 inches high, 12-13 inches wide and 15-23 inches long. Also, your pet has to be able to stand in the carrier and have room to turn around. Some airlines may require your pet to be past a certain age, such as 8 to 10 weeks. Airlines will normally limit the amount of small dogs or pets in the cabin. Some will allow up to seven and others only one. These are general guidelines so make sure you get your airlines requirements before you book the flight.
Other Requirements
Here are a few more things to keep in mind if you are planning to fly with your pet.
Pets in the cabin are not allowed outside of their carriers for any reason.
Most airlines will charge you $100 to $125 to bring your pet with you.
Pet policies can change often so verify all the expectations before you get on the flight.
Medium to Large Dogs
If your pet does not fit into the cabin carrier you will need to put them in the cargo area during the flight. You will not be allowed to access the cargo area during the flight. Pets used to be put in the same areas as the baggage, but that has changed in recent years as new plans usually have a separate holding area for pets. The pet cargo areas have appropriate ventilation, heating/cooling systems and air pressure to safely fly your pets from one location to another. There may be times where animals cannot be placed in the cargo area due to extreme weather conditions, especially on older planes. Again, check with your commercial airline for their policy.
Other Tips
Here are some tips for making your travel with pets go smoothly.
Find out if the airport is pet-friendly: Many airports now offer large dog parks and relief areas for pets.
If possible have the pets travel with other pets, especially dogs since they are pack animals.
If necessary you can consider tranquilizing your animal. This is a decision between you and your veterinarian as there are definite pros and cons both ways.
Now that you have a way to move your pet a long distance, that still leaves your car. Since you will be flying with your pet, you will need to find a dependable auto transporter to ship your car safely and on time. We have access to many car shippers so complete this brief form and get a free, no obligation car shipping quote