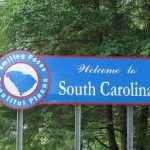 It is that time of year again. People are starting to get restless, and they are ready to start moving. Summer is always the busiest time of the year for moving companies, and auto shipping companies. For some reason it is the time to move. Record numbers of people are starting to pack up an move down south. They are getting sick and tired of Old Man Winter staying for extended visits. These people are looking for some place a little warmer, but this place must also have some sort of Winter weather. Florida is out of the question. It is like an oven down there. Many people are taking a much closer look at South Carolina. Is it a great place to experience four seasons? Is it a great place to call home? Autoshipping.org attempts to answer those questions in this informative article on South Carolina.
Take a Closer Look at South Carolina
South Carolina is located in the Southern United States. You might be surprised to hear the thick southern draw that most residents have, but don't let that stop you from enjoying their true Southern hospitality.
In South Carolina you will find all sorts of different lifestyles. You can enjoy some great mountain views, and you can enjoy the nice cool waters of the Atlantic Ocean. It is hard to find a place in South Carolina that is not considered nice. The most difficult time that most people have is choosing where to live.
How is The Local Economy
It is always a good idea to have a good job before you set out to move to a new state regardless of what the local economy is like. The unemployment rate in South Carolina is currently hovering right under 9%. That is right in line with the national average. Just a few years ago the unemployment rate was as high as 12%.
Over 80% of the entire economy of South Carolina is based in the service industry. The rest of the economy is broken down among manufacturing, transportation, education and health.
Can you Afford to Live in South Carolina
An average meal for two at a mid range restaurant in South Carolina will cost right around $60.00. Food seems to be right on par with the rest of the country. A loaf of bread will cost around $2.00, and a dozen eggs will run just under $2.00. A pound of chicken breasts will cost around $4.50.
Housing is a little more expensive. An apartment in the middle of the city will cost right around $2500.00 per month. Outside of the city you can expect to pay roughly $1800.00 per month for the same size apartment. The yearly mortgage rate hovers right around 4%.
These costs are all bases on averages. There are some cities in South Carolina that are more expensive, and then there are some that are not.
The absolute best way to find out which place would be best for your new home is to plan a trip to South Carolina. Seeing is believing, and taking a vacation in South Carolina is a great way to see everything that this state has to offer.