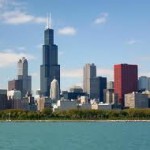 There are plenty of great cities to call home in the United States, but none of them can even come close to the Windy City of Chicago. Is Chicago everything that you hoped it would be? Autoshipping.org has put together this handy guide that will help you decide if Chicago is the city that you want to call home.
Understanding the size and scope of Chicago
Chicago is a large city, both in terms of actual physical size and population. It is estimated that over 2.7 million people are living in Chicago, and as you read this article that number has just gone up. Chicago sits on 234 square miles of land. That puts just over 11,000 people per square mile. If you are looking for some wide open space with very few people, then Chicago is not it. It is the third most populated city in the entire United States.
Chicago is much more than one city. There is an entire area of cities that surround it. This entire area has been called Chicagoland, and it is home to around 10 million people.
How is the weather
If you plan on living in Chicago for an entire year, then you will be treated to four full seasons. Chicago's far distance from the Equator allows for Winters where you will get to experience snow, ice cold wind, and plenty of ice. When Summer rolls around, it can get very hot and humid, but luckily this only lasts for about two months. Spring and Fall are the two most popular seasons because the temperatures are mild.
Enjoy the food
Chicago has its own style of food. It is home to the world famous Chicago style stuffed pizza. This is unlike any other pizza in the world, but there is much more than pizza in Chicago. You will also find an entire unique line of sandwiches that originate in Chicago. These sandwiches range from an Italian Beef sandwich to the famous Mother In Law Sandwich.
Get ready for some serious sports
If you are a sports fan, then you will love Chicagoland because there are plenty of sports to keep you entertained. It has been named the best sports city in the United States, and people love to watch and participate as much as possible.
For Baseball, there are the Chicago Cubs and the Chicago White Sox. Football has the world famous Chicago Bears, and basketball has the Chicago Bulls.
Enjoying the city
There is always plenty to do in Chicago. There is a very active nightlife that is full of clubs, bars and restaurants, and you will find that most of them are open during the day as well. There is never a shortage of things to do. There are some lovely places to shop, some really nice parks, and there is Lake Shore Drive which is located on a huge portion of lakefront property.
Is Chicago the right home for you? This information on the Windy City should be able to help you make that decision.